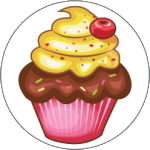 Our cupcakes are Baked Fresh in store daily! 
We continuously restock the case all day –
so you always have plenty to choose from, no matter what time of day.
Over 12 flavors in store daily! All seasonal and popular flavors.
 The listed cupcakes below are just some flavors that we have offered – some may be seasonal.
Standard cupcakes carried in store. Cupcakes are fresh for ONE DAY.  These can be FROZEN to extend their shelf life.  Keep fresh cupcakes at room temperature for the best texture.  If your cupcakes are DRY, please let us know, and we will replace them!
We try our best to ensure the best quality at all times.
Mini cupcakes available for custom order only. – NOT in store daily.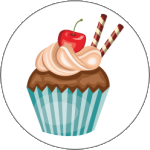 Full Size Cupcake
Pricing
Individual Pricing: $2.95 each
Half Dozen Pricing: $17.00
Dozen Pricing: $32.00 Standard Size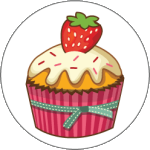 Mini Cupcakes
Pricing
1 tray of 2 dozen minis: $24.00*
2 trays of 2 dozen (4 dozen total minis): $44.00*
Gluten-Free or Vegan:
$28/tray of 24pcs/  $48 (2 trays of 24 pcs)*
only available for pre-order- MUST be placed 24 hours or more in advance.
*2 Dozen Minimum Order
*1 Flavor per 2 Dozen set available
Custom fondant cupcake toppers can be made to suit any style or theme.
They can be iced in any color, glittery , or bedazzled any way you would like!
Cupcakes can also be shaped into a number,
letter or other shape on a board for a cupcake "Cake".  
Please email for pricing and further info!
The following flavors are some of our many cupcake flavors available- these are all DESSERT STYLE!- These cannot be in a color scheme.
Also, please note that some of these flavors are SEASONAL.  We CAN do 'BOOZY" cupcakes, but this is limited to what "booze" we have on hand.  If you want a specific type, you would provide us with the alcohol you would like us to use in them.
Items change according to season.
Check out our gluten free page for gluten free options.
Vanilla Salted Caramel
Chocolate Salted Caramel
Snickerdoodle
Red Velvet
Red Velvet Raspberry
Cookies n Cream
Chocolate Peanut Butter
Death By Chocolate
Double Chocolate Mint
Cinnamon Cream Cheese Swirl
French Toast
Breakfast in Bed
Very Vanilla
Tuxedo
Coffee Toffee
Chocolate Covered Cherry
Strawberries n Cream
Tiramisu
Lemon Butter
Lemon Raspberry
Coconut Cream
S'mores
Fluffernutter
PB & J
Strawberries n cream
Butter pecan
Chocolate chip cookie dough
White chocolate raspberry
Chocolate raspberry
Chocolate hazelnut crunch
Banana pudding
Samoa
Thin mint