Step 1: Fill out Contact Us form located on main page, OR email us ( goes to same place ) at : melissa@sweetmelissade.com . SOME DATES are already booked, so we will let you know if we have openings! We are booking out months in advance.
Step 2: BE SURE to include the date you need this, how many you are trying to feed, BUDGET, Photos of your idea(s). Not sure what you want? Google some ideas! We can combine all your favorites. Flavor is NOT needed until 1 week prior, so no rush on this decision! If going for a Basic Dessert style or simple cake, just email us with what size cake, flavor, and color scheme: we can send you an invoice for this right away if we have availability.
Step 3: Be sure to check your SPAM once you send the email : you will receive an auto response once your email is received to assure we got it! We respond within TWO DAYS.
Step 4: Please be patient:) Melissa personally responds to each and every email. She will walk you through your pricing options, and then will email you an invoice once you decide to proceed!
Step 5: You must pay your deposit prior to the due date listed on your invoice in order to book. No cakes are booked without a deposit. Once we state we can make a cake and you request an invoice, we pencil you in for the date, and send the invoice as soon as we can!
We specialize in a variety of areas…see below
WeddingCakes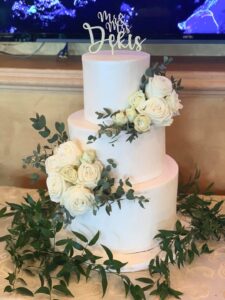 Custom Birthday Cakes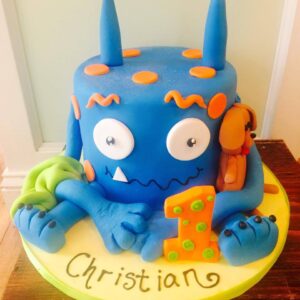 Baptism/Communion Cakes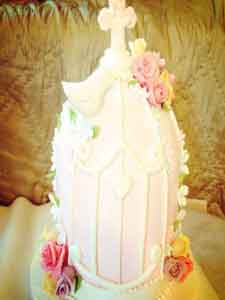 Baby ShowerCakes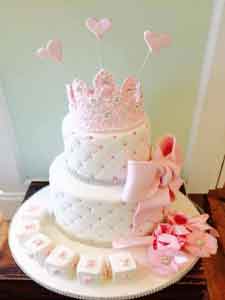 3-D and 2-DCakes
GRAB-N-GO Cakes available in store daily!
Limited quantities
(assorted flavors daily)
6 inch serves 10 $35.00 | 8 inch serves 15-20 $52.50
It is best to stop in store to see what we have available if you need a cake without a 7 day lead time. We carry a variety of flavors, all iced differently according to the season. Cakes CANNOT be put on hold over the phone, you must come in person to purchase a cake. **These can not be customized besides being written on.
If you would like a specific flavor, colors etc.. we suggest you fill out the custom order form. A SOLID 7 DAY LEAD TIME is required for ALL cake orders. DATES DO fill up fast! We are currently booking out 4 weeks out at this time.
What we have in our case daily is what's available for Grab-N-Go. We are constantly refilling our display case throughout the week.
Custom Cake Ordering & Pricing
ALL CAKE ORDERS ARE DONE VIA EMAIL.
We do NOT offer walk-in consults. Please do not CALL US to place an order, this is all done via email.
WE DO NOT OFFER CONSULTS/TASTINGS for anything, besides WEDDINGS.
We offer tastings for Weddings ordering a CAKE of 80 or more servings ONLY, and all consults and tastings are now done virtually since Covid regulations. We can send you home with items to taste, and consult via email or phone.
Once you email us, you will receive an automated response, which lets you know that we received your email. PLEASE CHECK YOUR SPAM FOR THIS!:)
Please be SURE to include ALL SPECIFICS so that we can move the process along faster: the date cake is needed, approx. serving size you need, photos of your ideas, your theme, type of event etc..
Please DO NOT email us just asking how much cakes cost- we need a lot more info than that to get a quote going. You can look over the price guide below to help you determine an approximate cost. We can help you build a custom cake to fit your budget

!
---
CAKE PRICING IS LISTED PER SERVING
Servings are LARGE. A 15 serving 8 inch cake easily feeds 20.
Servings are as follows: 10/15/20/25/30/40/50/60/70/80/100 etc..
Our attached menu with flavors also details the serving sizes for you.
SMASH Birthday cakes start at $20.
Smash Birthday cupcakes ( the size of a muffin) start at $5.50.
*Minimum order of 10 servings
(CUSTOM Cake prices START at $35
($3.50 per serving x 10 servings)*
SMASH BIRTHDAY CAKES FOR BABIES start at $20.
SMASH 1st Birthday cupcakes ( large muffin sized cupcake with a fondant number 1 on top, done in your color scheme) is $7.50.
::::::::::::::::::::::::::::::::::::::::::::::::::::::::::::::::::::::::::::::::::::::::::::::::::::::::::::::::::::::::::::::::::::::::::::::::::::::::::::::::::::::::::::::::::::::::::::::::::::::::::::::::::::::::::::::::::::::::::::::::::::::::::::
** AVERAGE Cake pricing for a
2 Tier buttercream iced cake with Fondant Accents (this is a 30 serving minimum) is $180.00**
($6 per serving is average)
---
One Tier Buttercream Frosted Cakes with simple Decoration – starts at $3.50 per serving- this includes BASIC Grab-and-Go cake style or Dessert Style.
Adding ganache Drip starts at $4.50 per serving.
Metallic drip starts at $4.95 per serving.
Example: 10 serving is $35/ 15 serving is $52.50 / 20 serving is $70 etc..
(10/15/20/25/30/40 etc..)
Two Tiered Buttercream Frosted Cakes -start at $3.50 per serving. Averages at $4 per serving- starts at 30 servings
(30/40/50/60 servings etc..)
This includes "Naked" style cakes. $105-$120 is beginning pricing for 2 tiers.
Rainbow, Ruffled or Rosette Buttercream Cakes – start at $4.95 per serving
(10/15/20/25/30/40 etc..)
Example: 15 servings is $74.25. Two tiers starts at 30 servings.
Buttercream Frosted Cakes with Fondant accents – Starts at $6.00 per serving. Range up to $7.50 per serving on average.
(10/15/20/25/30/40 etc..)
Example: 15 serving cake starts at $90 and ranges to about $112.50. Totally depends on design and level of detail.
Basic Fondant Finished Cakes –
starts at $7.50 per serving
(10/15/20/25/30/40 etc..)
Example: 15 serving cake starts at $112.50. Totally depends on design and level of detail.
Elaborate or Multi-Colored/
Fondant Finished Cakes / 2D + 3Dimensional –
from $8.50 per serving.
Can range up to $15 per serving for 3D cakes.
(10/15/20/25/30/40 etc..)
**Most elaborate or 3D cakes start at 20/30 servings.
---
PLEASE NOTE:
2-4 WEEKS NOTICE
is needed for most custom cakes, as some dates do book out. We are short staffed during this time, and dates are filling faster than ever!
---
Gluten Free or Vegan
Cake Options
Gluten Free or Vegan Cakes are available in these flavors:
(We do NOT OFFER gluten free AND Vegan cakes; it is one or the other)
Chocolate, Vanilla, Lemon, or Party Cake.
*Please see our menu for fillings, as most fillings can be made Gluten Free.
Vegan filling and icing options are:
Vanilla, Chocolate, lemon, party cake or peanut butter.
**Pricing is an additional $1 per serving up-charge from regular pricing.
Please see our menu above for complete pricing info.