We specialize in a variety of areas…see below
WeddingCakes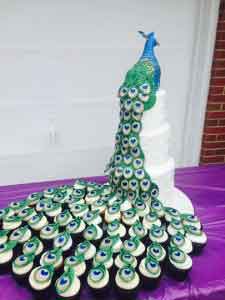 Custom Birthday Cakes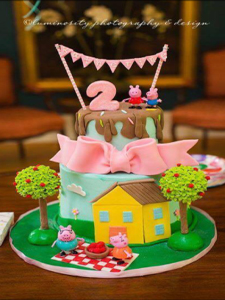 Baptism/Communion Cakes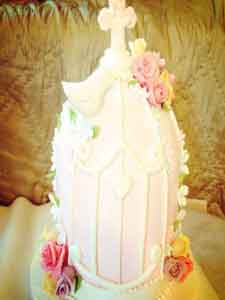 Baby ShowerCakes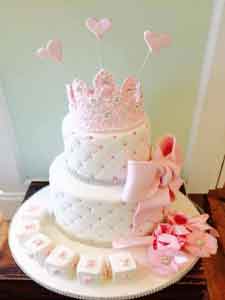 3-D and 2-DCakes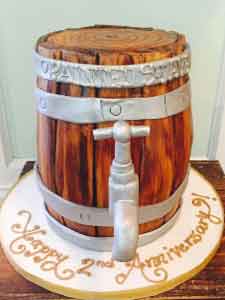 GRAB-N-GO Cakes available in store daily!
Limited quantities
(assorted flavors daily)
6 inch serves 10 $35.00 | 8 inch serves 15-20 $52.50
It is best to stop in store or CALL us to see what we have available if you need a cake without a 7 day lead time. We carry a variety of flavors, all iced differently according to the season.
**These can not be customized besides being written on or the addition of Buttercream Flowers.
If you would like a specific flavor, colors etc.. we suggest you fill out the custom form at the bottom of his page. A SOLID 7 DAY LEAD TIME is required for ALL cake orders.  Some dates do fill up fast.
What we have in our case daily is what's available for Grab-N-Go.
Custom Cake Ordering/ Pricing
ALL CAKE ORDERS ARE DONE VIA EMAIL. 
WE DO NOT OFFER CONSULTS/TASTINGS
for anything, besides WEDDINGS. 
We offer tastings for Weddings ordering a CAKE of 80 or more servings ONLY,
and do offer in person consults for smaller weddings.
All other consults are done via email.
Once you email us, or fill out the contact form, you will receive and automated response, which lets you know that we received your email. Please be SURE to include ALL SPECIFICS: date cake is needed, approx. serving size, photos of your ideas etc..
---
CAKE PRICING LISTED PER SERVING
*Minimum order of 10 servings (CUSTOM Cake prices START at $35 ($3.50 per serving x 10 servings)*
** AVERAGE Cake pricing for 2 Tier buttercream cake with Fondant Accents ( this is a 30 serving minimum) is $180.00**
---
One Tier Buttercream Frosted Cakes with moderate Decoration – from $3.50 per serving- this includes BASIC Grab-and-Go cake style.
(10/15/20/25/30/40 etc..)
Stacked or Tiered Buttercream Frosted Cakes – from $4.50 per serving – starts at 30 servings
(30/40/50/60 servings etc..)
Rainbow, Ruffled or Rosette Buttercream Cakes – from $4.95 per serving
(10/15/20/25/30/40 etc..)
Buttercream Frosted Cakes with Fondant accents – from $6.00 per serving
(10/15/20/25/30/40 etc..)
Basic Fondant Finished Cakes – from $7.50 per serving
(10/15/20/25/30/40 etc..)
Elaborate or Multi-Colored Fondant Finished Cakes / 2D + 3Dimensional –
from $8.50 per serving
(10/15/20/25/30/40 etc..)
---
PLEASE NOTE:
1-2 WEEKS NOTICE
is needed for most custom cakes, as some dates do book out.
---

Gluten Free Options
Gluten Free Cakes are available in these flavors:
Chocolate, Vanilla, Lemon, or Party Cake.
*Please see our menu for fillings, as most fillings can be made Gluten Free.
**Pricing for Gluten Free Cakes is an additional $0.50 per serving up-charge.
Please see our menu for complete pricing info.
Need information on placing a custom order or booking a private event? Click the button.