Our cake pops are our biggest selling item!
We make our balls BIG! 😉
Cake pops are made with freshly baked cake, real buttercream icing, and rolled like rich truffles. We then dip them in the finest chocolate , and they remain super moist and delicious!
The pops we sell in store daily change according to season.
We can also make custom and designer pops to suit your occasion!
Great for weddings, showers, birthdays or just because.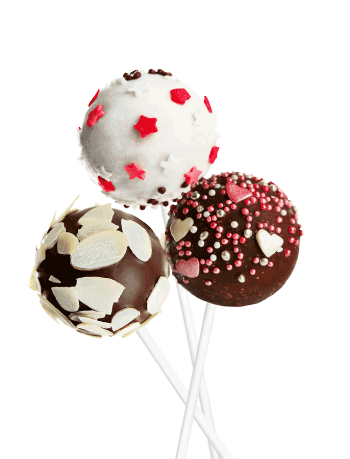 HOW DO YOU STORE CAKE POPS?
Cake pops are best if kept refrigerated . Pops can also be frozen for a shelf life of up to 3 months!
There are two styles of dipped cake pops:
1- like we sell them daily/ freestanding. They stand on a plate or platter with the ball down and stick up.
2- lollipops style/ these are priced higher than regular pops. These require a stand to hold the pops.
Cake pops can be individually bagged for an additional $0.50 each.
Cake pops sold daily in store : $28.00 per dozen
Custom pops start at: $30.00 per dozen
Custom lollipop style pops start at: $40.00 per dozen
*CUSTOM DESIGNED POPS VARY IN PRICING-
*Most are around $3 each
Please email me with any questions*
Gluten free and sugar free options are so available!
SOME OF THESE FLAVORS ARE SEASONAL
Death by Chocolate
Chocolate Sea Salt Caramel
Vanilla Sea Salt Caramel
Birthday Cake
Chocolate dipped party cake
Very Vanilla
Vanilla bean
Fireball
Pumpkin spice
Pumpkin pie
Butter pecan
French toast
Lemon Butter
Lemon Raspberry
Wedding Cake
Red Velvet
Red Velvet Raspberry
Chocolate Raspberry
White chocolate raspberry
Bananas Foster
Gingerbread
Cotton Candy
Strawberries and cream
Chocolate dipped strawberry
Coconut Cream pie
Mint chocolate chip
Chocolate chip
Chocolate chip cookie
Oatmeal raisin cookie
Double chocolate Oreo
Thin mint
Almond Joy
Samoa
Cookies 'n Cream
Peanut Butter Cup
Pb & J
Peanut butter fudge
Snickers
Peppermint Mocha
Peppermint Bark
Chocolate covered cherry
Cinnamon Roll
Frozen hot chocolate
S'mores
Candy Shoppe
Hungry? Need help? Click the button.