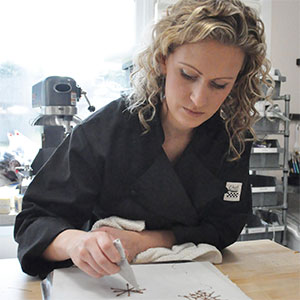 In October of 2014, Melissa Marchione realized a lifelong dream when she opened the doors of Sweet Melissa's for business.  The business was relocated in early 2019 to a much larger location, offering a full swing coffee shop as well. Melissa's husband is from Italy, so their inspiration for this new shop was definitely a European vibe.
We specialize in specialty cakes, cake pops, desserts and cookies that are intricately decorated, individually customized and great-tasting. We are NOT a bulk bakery, and do NOT offer sheet cakes.
Seeing the customer's face when they pick up makes our day!
Sometimes, people have a lot of ideas about what they want or they just have a vague concept. When you bring that concept to life for them and get to see their eyes go wide and hear them say that you did exactly what they were hoping for—that's the best thing.
Melissa is dedicated to be hands-on for each and
EVERY cake that is produced.